Provide customers with the perfect last-mile experience by using the mission-critical suite of technology that increases on-time, in-full delivery metrics and scales efficiently.
HypaShip - Our Technology, Your Way
The courier and express parcels market needs technology that delivers agility and visibility and that's exactly what the HypaShip CEP module does. 
HypaShip has created technology that scales with businesses and adapts to changing needs, enabling CEP operators to make faster, reliable, customer-centric deliveries at scale. From customer acquisition through to delivery, analytics and billing, HypaShip's CEP technology is both modular and end-to-end.
Modular, End-to-End CEP Technology
45%
Cost savings by implementing a single end-to-end platform
35%
Improvement in operational efficiencies
35%
Reduction in distances travelled
Automate Courier Deliveries In Minutes
Update delivery and pick-up tasks in minutes.
Use multiple file formats are supported, such as Excel, CSV or API.
Need minimal planning time to focus on distributing packages according to available delivery agents.
Consider All Vehicle And Driver Constraints
Account for all variables when picking the right vehicle, such as the number of boxes, volume, weight and many more.

Include returns to the depot for reloading or optimise deliveries to minimise time wasted, while creating the most optimal route.

Simply add employee work hours, lunch breaks and other workflow constraints.
Give customers real-time delivery information and accurate ETAs.

Reduce time wasted on inbound customer enquiries about deliveries.

Customise emails and text messages with integrated sending, in just a few clicks.

Improve customer satisfaction with an Uber-like shipment tracking experience and a branded tracking page.
Record Delivery Of Sensitive Mail With Proof Of Delivery
Capture digital signatures, photos and notes in the mobile app.

Increase security when dropping off sensitive post, with customer signature collection.

Make record keeping seamless and help resolve customer complaints easily with digitised documentation
Send routes directly to drivers' smartphones.

Navigate directly by drivers in the app.

Improve information available to drivers with mid-route driving directions, including travel time available on driver screens.

Include relevant customer information for couriers, such as phone number or gate code.
Fully Integrated Solution That Puts Businesses In Control
Provision of a complete solution to improve your agility as a business, the service provided to customers and to maximise revenue and margins.
No longer will businesses have to manage several disparate systems distributed across the organisation, many of them provided by different vendors.
HypaShip provides a complete solution that puts businesses in control of giving customers the best possible service while reducing their costs and allowing them to react more quickly to the changing demands of their markets.
Manage and react dynamically to market changes with the network management suite. Control the network and services at the touch of a button.
Take the hassle out of managing claims. The automated online claims service allows customers to share the information needed and see the progress of any claim.
PUDO / Returns Management
React to inflight changes and make returns customer friendly by working with any number of alternative delivery/returns providers through one easy to use interface.
Set up new customers and rates in minutes. Manage customers' services and expectations proactively.
Manage every aspect of collection and delivery operations with the powerful and extensive depot operations capability.
Offer consumers an impressive range of transactions, all from a single, intuitive user interface by using the counter solution.
Customer Engagement Tools
Provide all the tools and automation customers need to book and manage their deliveries worldwide, whatever their location, size or business. Includes booking portals, web booking and mobile apps.
Bill and invoice customers with easy to use rate charts and dynamic surcharging. Validate supplier invoices for true control of costs.
Postie - On-road Technology
Manage all aspects of the collection and delivery processes with Postie. The Android app is easy to deploy, offers built-in route optimisation and turn-by-turn navigation. It supports a variety of hardware, including rugged devices and mobile phones.
Find out how HypaShip can help you today:
Find out how HypaShip can help you today:
Delight customers at every possible opportunity. One of the keys to maximising revenues is providing the best possible service to your customers. HypaShip's solution ensures businesses have the right shipping solution for all worldwide customers at the right time and at the right price.
Your bottom line is our top line.
Working in such a competitive market, it is absolutely critical that the solutions adopted allows businesses to provide the best possible service at the lowest possible cost. HypaShip's fully integrated solution – which can cost up to 50% less than the clients' existing platforms – allows businesses to ensure that they are working as efficiently and effectively as possible.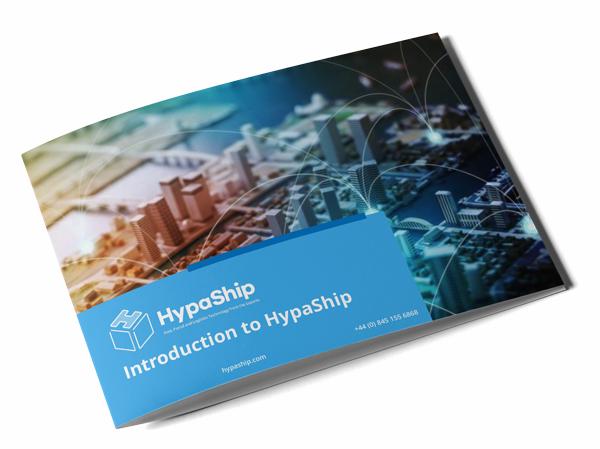 Find out how HypaShip can help you today: