HypaShip addresses the multiple challenges of continuously evolving market forces and complex IT infrastructures that are slow to change and cannot meet business requirements.
Industry Leading, Post, Parcel & Logistics Technology From The Experts
Ever imagined all of the logistics technology a business needs, in one place? HypaShip's modular, end-to-end technology delivers just that, whether it be customer engagement tools, end-to-end transportation and operations, deep-dive analytics or financial management and reporting, there is every tool a Post, Parcel or Logistics business could need. HypaShip's highly configurable enterprise logistics management technology suite is designed to serve all client needs using smart technology and BigData analytics.
Built by the experts, for the experts. HypaShip's industry expertise underpins its end-to-end technology and ensures its suite of products positively impacts every element of an operation.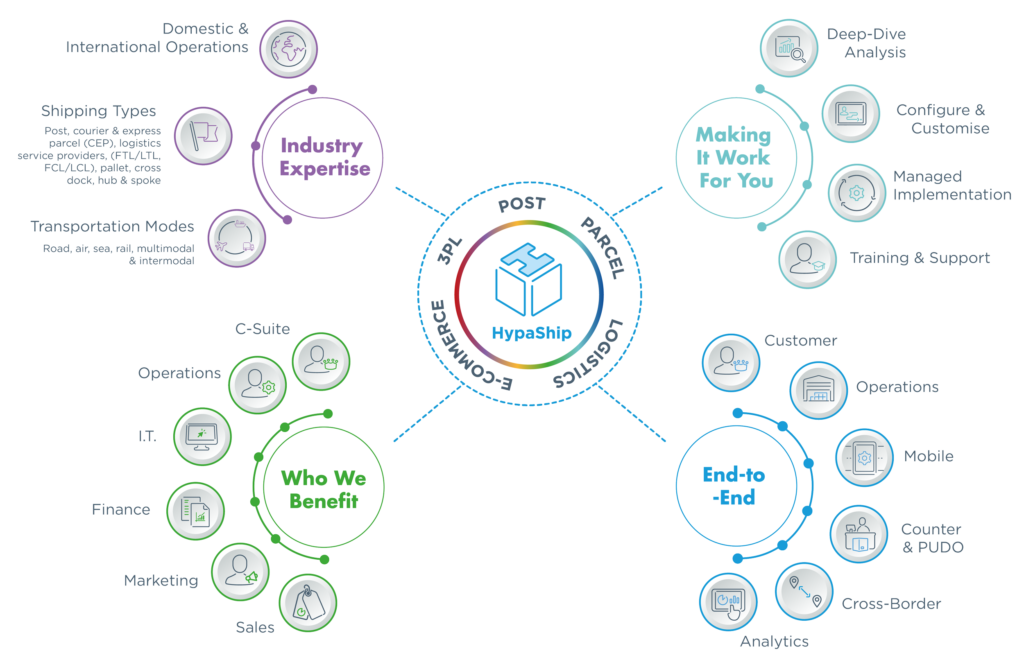 HypaShip Benefits The Whole Business
C-Suite
Understand better, control and direct a business by using BigData.
Marketing​
Manage the style and content of customer communications, information and campaigns.
Sales
Design and quickly implement services to onboard new clients, providing them with the tools needed to be successful.
HypaShip's founding to POC and initial customer acquisition
HypaShip obtains new market segments and gains clients such as APC Overnight and Jersey Post
HypaShip passes 250 million items per year
HypaShip launches customer operations in North America, Europe and Asia Pacific
HypaShip begins working with Asia Pacific Post Co-op
HypaShip passes 500 million items processed per year
HypaShip opens Asia Pacific HQ in Kuala Lumpur
HypaShip launches crowd logistics and mobility solutions
HypaShip is focused only on Post, Parcel and Logistics. The technology is built by industry experts who have worked
across all logistics' modes. The result is a modular, robust and scalable solution designed for complex supply chains
and delivery networks.
HypaShip's single platform eliminates data silos, enables real time visibility, and provides a holistic view of a business with unparalleled functionality. End-to-end systems enable Post, Parcel and Logistics Service Providers to make rapid and effective enhancements to product offerings, customer experiences and operational processes.
Find out how HypaShip can help you today:
Find out how HypaShip can help you today: